Front Page - up to April 23, 2020
by


Our Firsts unfurl their flag

It might have been unconventional and probably couldn't be classified as a win for the ages, but Moonee Valley has brought home our 13th First Eleven premiership.
In a finals campaign dominated by the coronavirus pandemic, we were the beneficiaries of the hard work during the season which saw us claim top spot on the ladder.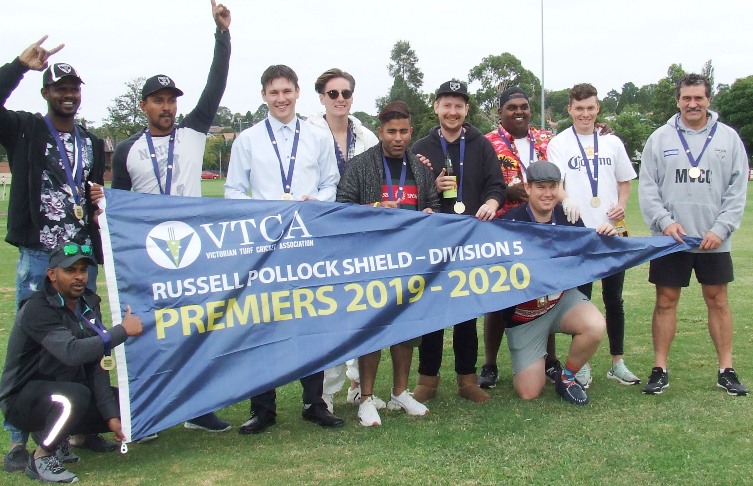 So when the decision was made to scrap Days 3 and 4 of the Grand Final due to health concerns, Moonee Valley as the top team won the flag.
At right: Moonee Valley celebrates on our home pitch after being officially declared the 2019/20 Premier. L-R Sameera Vithana (front), Nadeera Thuppahi, Shiwantha Kumara, Jack Newman, Anthony Cafari, Sumit Anand, Bede Gannon, Channa DeSilva, Sam Walker (front), Daniel Comande and coach Tony Gleeson.
We'd started steadily enough on Day 1 of the March 14,15,21 & 22 Grand Final and held Sunbury to just over 200, and got them out for 232 early on Day 2.
Then a horror half hour set in and we lost 5/1, with the first run coming as a bye.
Our first runs off the bat were scored by No. 7 Joshua Gorry.
Then Joshua bunkered down with Anthony Cafari and they ground out a 71-run partnership before Caf fell late in the day.
We lost two more wickets before finishing Day 2 at a jittery 8/78.
The boys were resolute that we could turn around a first innings deficit if needed in the second half of the game, but coronavirus intervened and with no further play, Moonee Valley won on the basis of an imcomplete first innings.
***More words and pictures - click HERE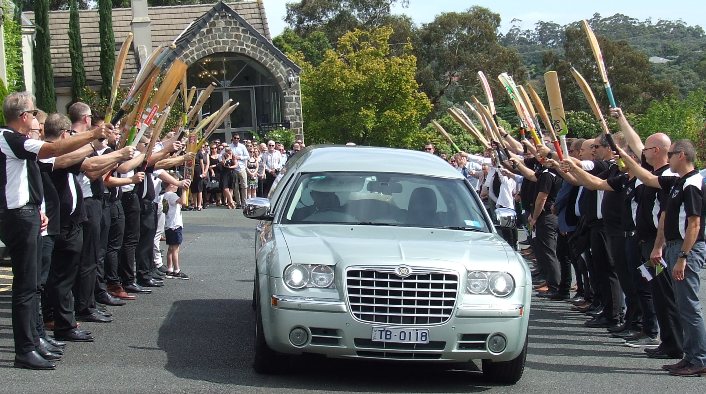 Moonee Valley players and other friends of Heath Webb-Johnson send him off with a guard of honor.

MOONEE VALLEY - WE DID HEATH PROUD
More than 50 Moonee Valley Cricket Club players, partners and past players turned out in force at the funeral of much-loved member Heath Webb-Johnson on March 12 to demonstrate the impact he'd made on our Club in just over a dozen years.
The Moonee Valley Cricket Club was left devastated by the death of one of our most bubbly yet uncompromising members, on March 3, and we were determined to show our support.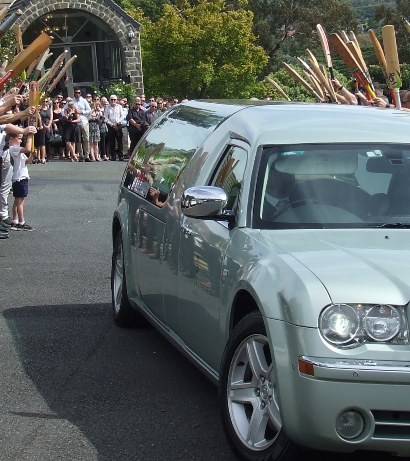 Most of our players turned out in the requested Moonee Valley black tops, and were part of a guard of honor with raised cricket bats as Heath ended his innings and left the field for one last time.
A heartbreaking but poignant image was Heath and Lezanne's son Reid with his bat as part of the guard of honor.
As a further mark of the impact Heath Webb-Johnson made on our Club, he has been named as 13th man in our First Eleven Grand Final side. All our players will have Heath at their back as they take to the field for the decider.
The service was held at Tobin Brothers Diamond Creek. It was a request of the family that there were no flowers and any gifts were to be in the form of a donation to the Black Dog Institute.
At left: In a heart-breaking scene, little Reid Webb-Johnson holds a bat aloft in a tribute to his dad.
Heath played 98 games in the black and white since his debut in 2006/07, and no-one was more fiercely proud to pull on the club colors and represent us without compromise.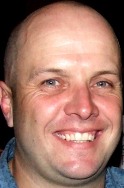 We learned of his passing on March 5, and a large group of players, supporters and past players, including those who have moved on to other clubs, gathered at the Ormond Park clubrooms to honor him and reminisce about Heath's impact on our Club.
Moonee Valley players wore black armbands to honor Heath the weekend after his passing - the Fifths for their Grand Final victory, and the Firsts for their semi final win.
Heath's finest moment as a Moonee Valley player was his 150 not out v East Keilor in the Seconds in February 2013. He backed it up the next day with a 50 retired in the Fourths, doubling up across the weekend.
His games had been sporadic in recent years but even this season Heath chimed in with a 54 in the Fourths and 64 in the Seconds, as well as playing a key role in our Barooga Over 35s tournament team in January.
Heath's bright red helmet was an indicator of how he was prepared to stand out and be counted, and he was passionately proud that it could be seen as a target for the opposition bowlers. The harder they came at him, the more he liked it while representing Moonee Valley. Heath leaves behind two children, Reid and Bree with Lezanne.


Our Fifths - their day to Shine

Moonee Valley's Fifth Eleven - affectionately known as the Shiners - put up an emphatic end to their season when they won the NWMCA Girolami Shield one-day grand final at home at Ormond Park on March 7.
The "Moonshiners" took full advantage of the home ground advantage - we originally expected to play away but were gifted a home game following some shenanigans uncovered at one of the other teams - and were in control from the first ball.
Moonee Valley 2/81 in 8.1 overs defeated Northern Lions all out for 80.
At right: The Shiners show off their Premiership medals: L-R. Back - Ryan Chirgwin, Paddy Shelton, Justin Trowell, Liam Farrell, Jesse Nankivell-Sandor, Sam Kater, Dominic Rettino and Jarrad Sims. Front - Samuel Gunther, Manu Poulose, Cassidy Box, Shane Chalmers and Liam Shaw.
Co-captains Liam Shaw and Dominic Rettino had dominant games, but the whole of the team of 13 pulled their weight, bowling tightly and showing exceptional skill and commitment in the field.
The Shiners have been probably our best-performed squad over the past five seasons, but haven't been able to bring it home until this year. For a full match report, click HERE

Our MVP and Fieldlow vote count night

Moonee Valley's Most Valuable Player and Fieldlow vote count night was held in the Ormond Park clubrooms on March 8, and there was plenty to celebrate.
The Fifths were still coming down off their Premiership win the day before, while the Firsts took just 15 minutes earlier on the Sunday to wrap up their Semi Final and march into the Grand Final.
It's great to be celebrating in the new clubrooms, and thanks to Peter Golding and Brendan Rhodes for putting on such a professional show for the count.
At left: Most Valuable Player winners L-R Dejan Gilevski, Anthony Cafari and Cassidy Box show their medals, while an image of Heath Webb-Johnson shows as the backdrop.
The winners were: MVP - Firsts Anthony Cafari, Seconds Jim Polonidis, Thirds Dean Jukic, Fourths Jaykumar Patel, Fifths Cassidy Box, Sixths Dejan Gilevski and Sevenths Graeme Bloom.
Our Fielding Award winners were Firsts Daniel Comande, Seconds Michael Ozbun and Stephen Ward, Thirds Peter Golding, Fourths Jaykumar Patel, Fifths Paddy Shelton, Sixths Dejan Gilevski and Sevenths Channa DeSilva.
*For more details on the voting, click HERE .


OUR SENIOR WISDEN 2018/19 - ALL 122 PAGES OF IT, WITH STATS, RECORDS, PHOTOS AND COMMENTARY. CLICK HERE TO SEE IT




Main Club contact details:

* Charlie Walker - President/Secretary 0411 705 381; 9370 1802
* Peter Golding - Treasurer 0419 009 721
* Mark Gauci - Vice President 0457 778 335
* Peter Pickering - Junior Co-ordinator - mooneev@club.cricketvictoria.com.au
* Channa DeSilva - Membership Co-ordinator 0402 833 592


Email: mooneev@club.cricketvictoria.com.au


For more contacts, see " Office bearers & Officials " under "Club News & Info" at the top of the page

Last updated : March 22, 2020.
For more of our history, including our Premierships, click HERE


April 23, 2020

charlie's firewood