Jimmy Woof's debut day out
by Charlie Walker
---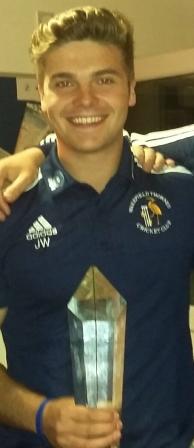 Jimmy Woof's debut day out

English import James Wolfenden (left) made an immediate impact in his first game for Moonee Valley, becoming only the fourth player in the history of our Club to make a century on debut.
James, out for a "year in the colonies" with close mate Sean Duckworth after finishing university together, found himself in the hard-wicket Sevenths following a shuffle of teams for Round 1. The abandonment of three of our four turf grades due to pitch preparation issues meant that a spot opened up for both lads in the Sevenths.
James in particular took full advantage.
Playing at home on the Ormond Park East oval on October 8, he opened the batting with senior coach Lou Raffaele against the Singh Sahba team. James got off to a flier, with the ball bludgeoned to all parts of the ground.
James looked imperious in posting his 103 not out, retiring in accordance with th NWMCA one-day comp rules.
Moonee Valley continued to keep the scoreboard ticking over, with Anthony Cafari posting 67 and Daniel Comande going out off the last ball of the innings for 97, while seeking the club the boundary that would have also brought up his ton.
Along the way, Daniel passed the 1000 senior run milestone for the Valley. Dan clubbed eight sixes in his knock, which gets him into the Wisden hall of fame.
Moonee Valley's total of 4/339 compulsory close was our highest-ever score in the Sevenths, entered this season in the Sunday one-day comp.
Singh Sabha got off to a promising start as it bravely tried to reel in the total, but lost a lot of its wickets in the middle overs to be all out for 182.
James showed that fielding was just as easy as batting, with a spectacular one-handed catch on the boundary. His mate Sean wasn't to be outdone, picking up his first wicket for the Valleys.
And another former UK resident making his debut for Moonee Valley, Shiraz Badurdeen, also demonstrated sublime fielding skills to make a difficult catch look easy.
At right: James Wolfenden carried his UK form over to Moonee Valley. He's pictured here with the ECB South Yorkshire Premier League Trophy, which he won with his club Wakefield Thornes. He was playing championship cricket up to a couple of days before hopping on the plane to Australia.



October 9, 2017

charlie's firewood