Front Page - up to October 10, 2017
by
---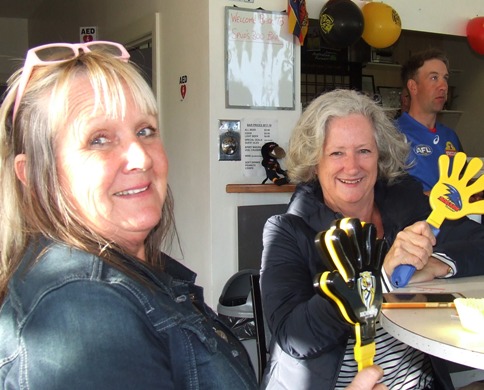 TIGER TOWN AT

MOONEE VALLEY


Moonee Valley celebrated the Richmond AFL Premiership in style, even though the Tiger supporters were an endangered species down at Ormond Park on September 30.
About four dozen Valley diehards - and not a Crows supporter in sight - watched the game on the big screen while we enjoyed the match.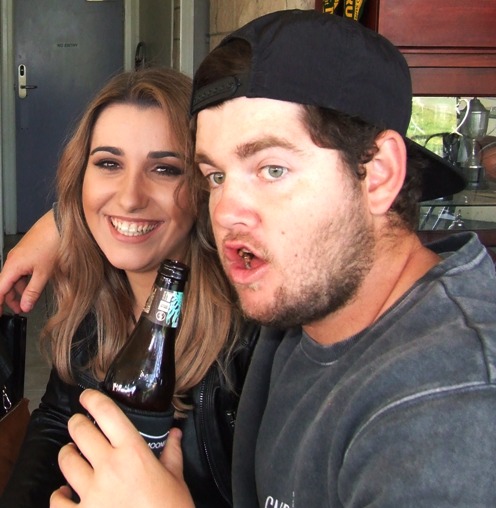 It was a foregone conclusion early, and so a lot of our younger senior players availed themselves of a practice session, with stump cricket in the nets holding more interest than the footy.
Above: Who are you barracking for? Cricket mums and past players Adele Walker (far left) and Vicki Ayers show some true colors.
We had a number of juniors pass through during the course of the afternoon to try their skills on the jumping castle obstacle course.
Many thanks to our organisers - chiefly Michael Ozbun, Matt Thomas, Vanessa Riggio, Sam Milazzi, Kevin Gardiner, Agatha Soccio and Jesse Nankivell-Sandor.
At right: Fast bowler Chris Pollock and partner Sam Milazzi enjoyed the day.
Moonee Valley intends to follow Richmond's example and get among the silverware this season as well.
****For more pictures from the day, click HERE


---
***************Our Barham hit-out******************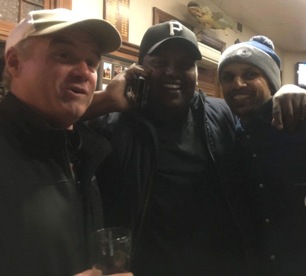 Above: Our team which won the pre-season hit-out in Barham. L-R: Back - Matthew Esmore, Matt Thomas, Mark Gauci, Anthony Cafari, Nate Wolland, Channa DeSilva, Daniel Comande, Stephen Esmore, Nigel Cowan and Anthony Leonardo. Front - Ben Thomas, coach Lou Raffaele and skipper Rajan Aiyappan.

Moonee Valley sent a strong team up to Barham for a pre-season hit on turf on September 16, and we came away witha good win.
The weekend was an opportunity for players in or vying for the top grades to have some time away together, and it certainly worked. Our bowlers got a good go, and batsmen got some quality time in the middle.
The post-match bonding was also a highlight of the weekend.
At left: The after-match celebrations: L-R Sean O'Kane, Channa DeSilva and Rajan Aiyappan.
Moonee Valley legend Sean O'Kane came across for the weekend from his home patch at Barooga - where we played our pre-season on turf leading up to the 2016/18 year - and a good time was had by all.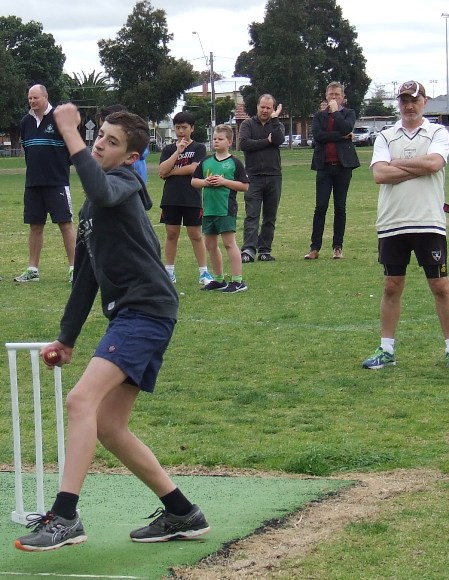 COACHING CLINIC SETS

THE SCENE FOR OUR

JUNIORS

Moonee Valley juniors got a taste of the future when senior players ran a training clinic at Ormond Park on September 10.
Coach Lou Raffaele and a group of senior players took our up-and-comers through their paces, checking and advising on their techniques and giving our young Valley boys some handy instruction on how to continue improving their game.
At right: Luca Nimorakiotakis bowls in the southern nets, under the watchful eye of senior coach Lou Raffaele.
The seniors are taking a bigger role with the juniors this season, assisting our Director of Junior Cricket, senior player Channa DeSilva.
Anthony Cafari and Stephen Esmore - who both came through our junior program - are taking on the coaching of Moonee Valley's Under 12s this season.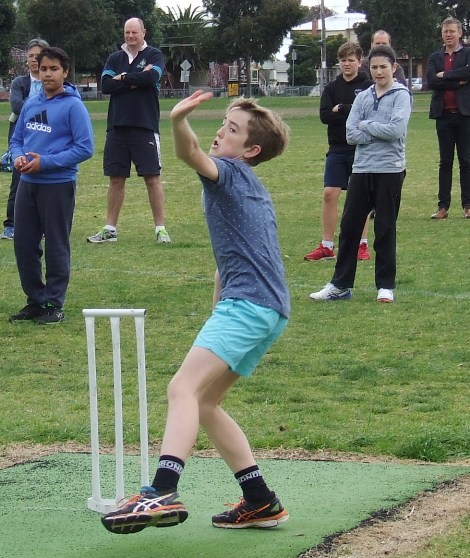 And our two young English imports, James Wolfenden and Sean Duckworth, have put up their hands to coach our Under 10s.
All in all, the juniors will benefit from the increased senior interaction.

At left: Dylan Pleban shows his bowling skills.
Junior Co-ordinator Peter Pickering advises that there are still spots available in each of our age groups - Under 14s, Under 12s and Under 10s, as well as in our Milo In2Cricket program for the younger players wanting to get in to cricket for the first time.
Players or parents wanting more information can phone Peter on 0414 800 145 or email him at pjp@vicbar.com.au


Our Calendar of events: To see training sessions, events and other key activities, click this link --


---
VALLEY OUTDOOR TRAINING - DETAILS


Moonee Valley Cricket Club trains at Ormond Park on Tuesday and Thursday evenings. We have seven senior sides - four on turf and three on hard wicket, and a range of Saturday and Sunday games to suit all options.

We still have spots available in our senior teams. Anyone interested in joining our successful and progressive club can phone coach Lou Raffaele on 0450

181

948, or Club President Charlie Walker on 0411 705 381.

Interested juniors can phone Junior Co-ordinator Peter Pickering on 0414 800 145 or email him at

pjp@vicbar.com.au





---
Main Club contact details:
* Charlie Walker - President 0411 705 381; 0409 237 543; 9370 1802
* Peter Golding - Treasurer 0419 009 721
* Simon Thornton - Vice President 0417 570 779
* Peter Pickering - Junior Co-ordinator 0414 800 145 pjp@vicbar.com.au
* Channa DeSilva - Director of Junior Cricket 0402 833 592

Email: mooneev@club.cricketvictoria.com.au


For more contacts, see " Office bearers & Officials " under "Club News & Info" at the top of the page

Last updated: October 9, 2017.
For more of our history, including our Premierships, click HERE


| | |
| --- | --- |
| Our Sponsors | Number of visits to this site |
October 11, 2017

charlie's firewood