Firsts through to the Grand Final
by Charlie Walker

Moonee Valley's First Eleven has won its way through to its first Grand Final since the 2009/10 Premiership year, with a hard-fought victory over Caroline Springs in the semi.

We made the early breakthroughs in the March 10 & 11 match after Caroline Springs won the toss and opted to bat on its home track, with Jack Newman achieving a runout in the first over.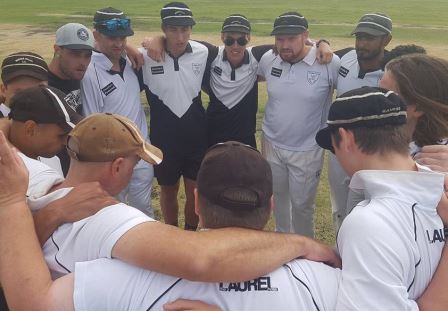 We took five more quick wickets to have Caroline Springs six for not too many, but their bottom half dug in with a couple of half centuries to push their total to 190.

The fast bowlers got the early breakthroughs, with Jack Newman and Nate Wolland picking up quick wickets, but it was the marathon spell of Chanaka Silva with 27 overs when ripped into their middle order and then ensured the bottom half didn't take full control.

At right: Make sure we stay focused: The huddle. Clockwise from 9 o'clock - Raj Aiyappan, Dan Comande, Jesse Felle, Matt Thomas, Stephen Esmore, Nigel Cowan, Nate Wolland, Chanaka Silva, Anthony Cafari, Jack Newman, Mark Gauci and Lou Raffaele.

Chanaka's return of 5/67 was his third five-wicket haul in the Firsts this season, underlining his great consistency and the reliance we place on his guile and accuracy.

Jack Newman came back on to take the wicket of the Caroline Springs top scorer and their No. 9 bat, and the innings was quickly over.
Moonee Valley had to negotiate eight overs at the end of Day 1, and we went to the overnight break at 0/11.

Our first wicket fell at 14, and then Dan Comande and Charles Bibby put on a steady 33-run stand before both were out with the score on 47.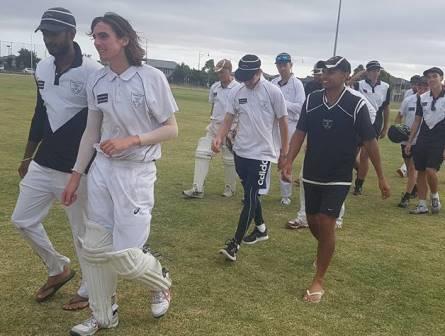 That brought Anthony Cafari and Chanaka Silva to the crease at the same time, and they did the job for Moonee Valley.

An 85-run stand before Chanaka fell for 50 steadied the ship, and with the score at 4/132 and plenty of overs in hand, victory was in sight.

We lost wickets at 150, 164 and 181, but Caf was still there guiding us home, and was there at the end with a magnificent unbeaten 69 when we passed the target seven wickets down with two overs to spare.

At left: Our batting heroes lead us off - Chanaka Silva and the not-out Anthony Cafari did the job for Moonee Valley.

It was hard-fought, it was close, but with Anthony Cafari in full control of the levers out in the middle we were never likely to lose.

Now it's into the four-day grand final v Sunshine. Bring it on.





March 14, 2018

charlie's firewood