Women's Premiership 2020/21
by David Baker
Moonee Valley Women's Premiership 2020/21
After a 10-year break in play, the Valleys were able to put together a senior women's team which was good enough to deliver a fairytale end to their inaugural 2020/21 season.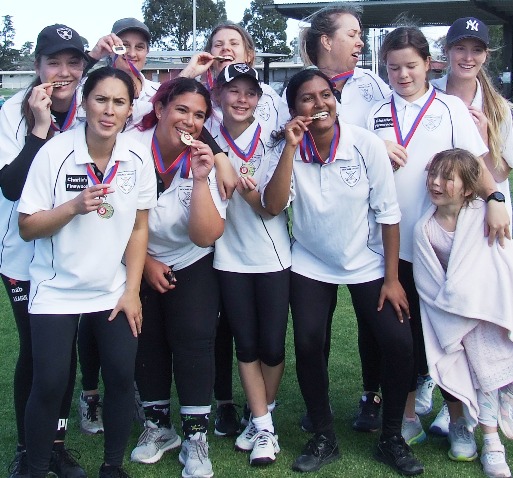 The history books will show that the coronavirus pandemic still had a major effect on Australian society towards the end of 2020. All community sport was severely curtailed during winter, and even the AFL played matches from lockdown hubs in empty stadiums.
At right: Medals make it all worthwhile: L-R Tara Newman, Yasmin King, Sandra Verschoor, Tanya Intagliata, Sarah Ronayne, Katherine Baker, Jane Raman, Sarah Gooden, Audrey Brown, Kelsie Armstrong - and Katherine's sister.
Even though the 2020/21 cricket season was able to commence later than usual in the aftermath of severe lockdowns, public gatherings were still subject to restrictions, and even a socially-distanced sport like cricket was hampered by various health rules and snap lockdowns.
Against this backdrop, it is remarkable that the club was able to recruit enough women interested in playing cricket.
Club President Charlie Walker and Tanya Intagliata, who would go on to captain the new team, were instrumental in finding enough players to field a team. More than half the new team had never played cricket before (many being recruited from the Moonee Valley Football Club), and most other players were returning to cricket after a considerable break.
Only Katherine Baker, 11 years old at the time, had any recent cricket experience.
From these humble beginnings, the Moonee Valley women's team grew and developed quickly over the course of the season. They won their first game and went on to win all their home-and-away matches against every other club in the competition bar one.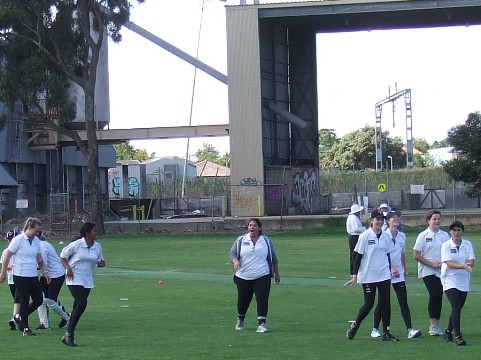 Grand United Cricket Club, fielding former Division 1 Premier cricketer Tayla Wilmot, was undefeated through entire season (save for the match that mattered most).
At left: The silos and rail line at Parsons Reserve made for an interesting backdrop as the victors saw the final ball bowled.
After being thoroughly thrashed by Grand United in their first encounter, the Moonee Valley women got closer and closer in every subsequent match, getting within 10 runs of a win in their final game of the ordinary season.
Unlike other sides in the grade, Moonee Valley developed brilliantly as a whole team throughout the season, with every single player bobbing up with a match-winning performance at one point or another. After comfortably winning their semi-final at home against Keilor, our girls were ready to make the trip out to JR Parsons reserve in Sunshine for the Grand Final against the undefeated Grand United.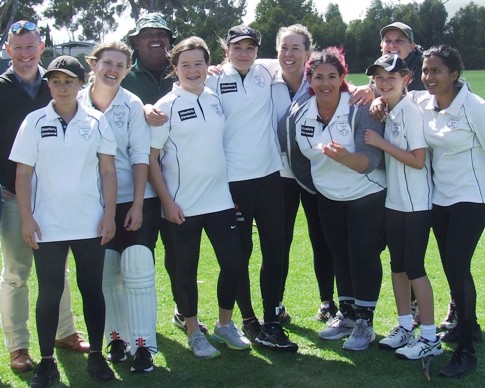 It must be said from the outset that Moonee Valley had a huge number of supporters for this match – so much so that it felt like we had a home ground advantage.
At right: Elation! L-R Team manager/scorer David Baker, Yasmin King, Sarah Ronayne, coach Channa DeSilva, Audrey Brown, Tara Newman, Sarah Gooden, Tanya Intagliata, Katherine Baker, Sandra Verschoor and Jane Raman.

However, a hush fell on these supporters when opening batter Sarah "Goodie" Gooden – fresh off a maiden half-century only a few matches previously – was bowled by Tayla Wilmot off the second ball of the match.

Twelve-year-old Katherine Baker, now assured of being the team's leading run scorer for the season with Goodie's dismissal, still had to square her shoulders and walk out to the middle to face fast and full quality bowling with the score 1/0. Yas King followed her opening partner back to the pavilion in the second over.

With the team's biggest hitters back in the sheds and the score 2/4, the prospects of jagging a win were starting to look remote.

Katherine and Jane Raman steadied the ship briefly, but after Katherine retired after her requisite 5 overs, the Valleys continued to fall victim to Grand United's relentless bowling and lost wickets at a regular pace. Jane Raman and Sarah Ronayne were both dismissed with the score stuck on 31.

When Audrey Brown was run out from a direct hit by Tayla Wilmot, and with the score now 5/38, the team needed a captain's knock from Tanya Intagliata. Happily, Tanya was equal to the challenge.

Captain-fantastic Tanya played a series of strong shots to the off side and batted industriously with Kelsie Armstrong (who made her highest score for the season) to keep the scoreboard ticking over.

When Katherine returned to the crease following Kelsie's dismissal, both batters ran hard and rotated the strike to eke out a respectable total. After Tanya got caught in the deep for 25 off 26 deliveries it fell to Katherine, as the "last woman standing", to bat the final over and a half by herself and make an extra 4 runs for the team by running to the non-striker's end and then walking back. Those bonus runs at the end would prove to be crucial in the outcome of the match.

The Moonee Valley women steeled themselves to defend a modest total of 7/96, and they did not disappoint.

Opening bowlers Katherine Baker and Yasmin King (0/8 and 1/8 respectively) kept the run-rate in check (including Yas bowling one of their opening bats for 2), and this was followed by similarly tight bowling from Tara Newman and Audrey Brown.

Sarah Ronayne took a sharp catch behind the stumps to dismiss Grand United's Sarah Jamieson for 3, with Jane being rewarded for bowling consistent line and length. The Valleys were immense in the field, running hard towards every ball and not letting Grand United rotate the strike. At the 10-over mark GU were 2/44, 10 runs or so off the pace, but also only a few good hits away from pulling back the deficit. Tension ran high all around the ground.

At the drinks break, coach Channa DeSilva called not just the team together, but all of the family, friends, club supporters and "Jane's Friends" to get around the team and cheer them on to a strong second 10-over effort.

Jane's bowling of the 11th over took place amidst the huge noise from the Moonee Valley supporters, loudly cheering every dot ball and every sharp bit of fielding. When Jane delivered again with a run-out from the deep and the score 3/51, followed quickly by Goodie snagging her first of the season to make the score 4/57, Grand United started panicking.

The ground became an absolute pressure-cooker. GU had their star batter at the crease, but their other batters simply could not rotate the strike to her enough. When Tayla Wilmot did make it to the striker's end, straight bowling and tight fielding by the Valleys limited her contributions to single runs.

Grand United were able to accelerate the run rate towards the end of their innings, but it was too little, too late.

With nerves of steel, Tara, Katherine and Jane (who completed Katherine's over after the umpires removed her for a beam ball in a moment of late drama) closed out the death overs to leave Grand United stranded on 4/94, three runs shy of victory.

It was a fantastic team performance from the Valleys from start to finish.

Teammate Sandra Verschoor, who heroically pulled her hamstring in the semi-final the week before, was able to sip the champagne with the rest of the ladies (in a COVID-Safe fashion), and player-of-the-match Tanya Intagliata had a huge grin on her face putting the winner's medals around everyone's necks.

This was Moonee Valley's first women's premiership win in its history. Judging from the prodigious spirit running in this team, it will not be the last.

The ladies led the party back at the clubrooms long into Sunday night, celebrating with a good deal more music, singing and dancing than previous club premierships probably involved. Long may the party continue.

Team: Tanya Intagliata (c), Sarah Ronayne, Katherine Baker, Jane Raman, Audrey Brown, Sarah Gooden, Tara Newman, Kelsie Armstrong, Sandra Verschoor, Yasmin King. Coach: Channa DeSilva.

March 19, 2021

charlie's firewood