Presentation 2018 - Page 3
by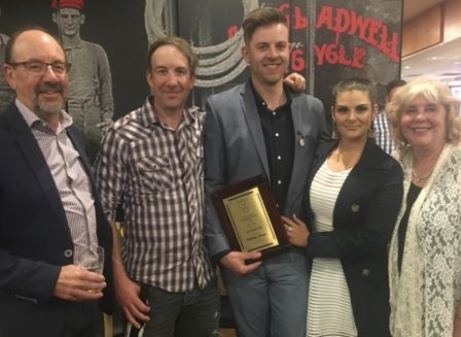 Matt Thomas Life Membership
Mark Gauci announced and presented the Life Membership to Matt Thomas. Mark captained him in the 2009/10 First Eleven Premiership, and Matt took over from Gauch as Firsts captain.
At right: A proud Thomas family: Celebrating Matt's Life Membership are (L-R) father Alan, brother Ben, Matt, partner Vanessa Riggio and mother Sandra.
The two guys work together, so it was fitting that Mark make the presentation to Matt – one of our first two players to go all the way from juniors to Life Membership of our club.
Matt was here virtually from the beginning, when we started juniors at Moonee Valley in 1996.
He has a junior batting average of 34.23 over 1301 runs– among our five-best of all time. Was a bowler in those days – 68 junior wickets @ 10.76.
Matt has played 181 senior games. Our bylaws recognise longevity of service – so under the bylaws half of Matt's 56 junior games count towards Life Membership – giving his a tally of 209.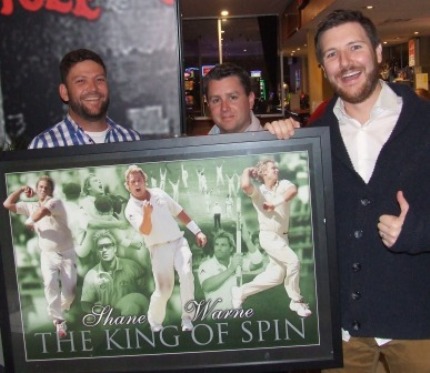 He has 4237 senior runs – 16th of all time. Matt's also taken 114 senior wickets – 49th of all time. But he didn't bowl much at all in the Firsts – only got the ball when he became Captain for the 13/14 season.
At right: Jeremy Davey (far right) celebrates his auction pick-up with teammates Geoff Shiell (left) and Ed Rayner.
His bowling in the Firsts in the five seasons before then was:
* 12/13 – 0 overs
* 11/12 – 27 overs
* 10/11 – 4 overs
* 09/10 – 0 overs across 13 games
* 08/09 – 6 overs

Matt won the First Eleven bowling awards in 2013/14 and 2014/15, so his talent must have been hidden in the years he didn't get the ball.
He was Club Champion in 2013/14 and 2014/15 – his captaincy years – proving he leads from the front. He was voted Captain of 2014/15 VTCA Team of the Year in our grade – a team voted on by all captains.
Matt is one of only nine Moonee Valley players to score centuries in consecutive innings, in 2006/07 – 131 not out in the Sevenths, followed up with 126 in the Seconds.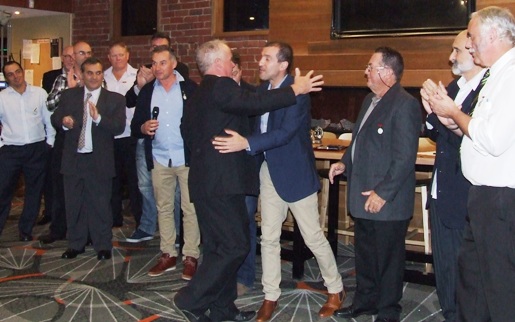 He has the third-most Twenty20 games for Moonee Valley – 29; the third-most Twenty20 runs with 486; and the fifth-most Twenty20 wickets with 16.
At right: Welcome to our select group: Sean O'Kane receives a hug from fellow Life Member Jim Polonidis (right).
Matt's been selected four times in the Moonee Valley Team of the Year – twice as vice-captain.
He's also been on the MVCC Committee since 2013/14, so he has truly made a lasting and important contribution to our club both on and off the field.

Jesse Felle Life Membership
Jesse was presented with his life membership by President Charlie Walker, who coached him across a couple of his junior seasons and was also junior co-ordinator in that time.
Jesse's also close to one of our original juniors – he started in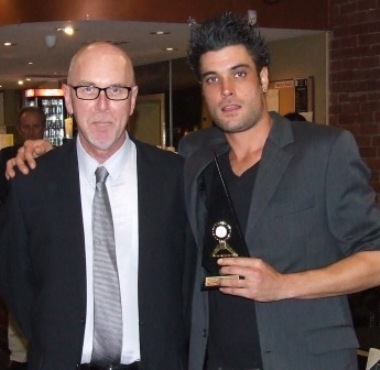 1998/99.
In seniors Jesse has played 194 senior games. Our bylaws recognise longevity of service – so under the bylaws half of Jesse's 47 junior games count towards Life Membership – giving his a tally of 217.
At right: Congratulations: New Life Member Jesse Felle (far right) receives his Moonee Valley Award trophy from fellow Life Member Kevin Gardiner.
He's made a fair contribution on the field - 3190 senior runs @ 19.22; and 368 senior wickets – the fourth-most of all time. Jesse's also sent down 1902 overs – sixth-most at the club.
He's been named five times in our Wisden Player of the Year. Ian Denny leads with 11, Darren Nagle and Mick Harvey 6, so Jesse's in pretty exclusive company.
He's a three-time winner of Moonee Valley Award, for the best player in all grades other than the Firsts.
In the Sixths Premiership of 2013/14, Jesse compiled a batting average of 109 in the finals. He showed a new-found maturity in shot selection, didn't throw his wicket away and was out in the middle for the winning runs.
"As a past junior co-ordinator, past junior coach and as president, I'm well aware of how Jesse liked to push the boundaries,"Charlie Walker said.
"There were some parallels with his close mate Tim Fisher, who was killed in a motorbike accident in March 2017. But Jesse had a close and supportive family – Michael and Jo – whenever he drove us close to exasperation, and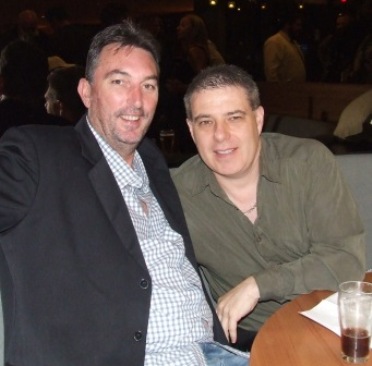 with that support he came through.
"It's fitting that Jesse, along with Matt Thomas, are the first two players to come through from our long journey which started with the formation of the juniors in 1996/97," Charlie said.
At right: Club stalwarts at presentation night: Jim McKenzie (left) and Daniel Phillips.
"And it's fitting that Chris Ayers, who had the foresight all those years ago to set up a career path for the local youngsters, is here to night to see that vision really come to fruition with two life memberships."


*** For more words and pictures, click HERE


April 24, 2018

charlie's firewood