Premier-ship power comes to the Valley
by
Premier-ship power comes to the Valley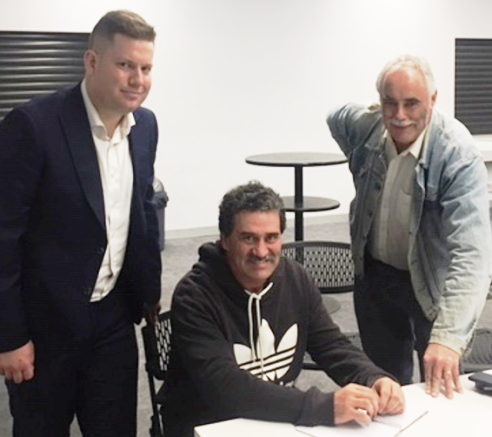 Moonee Valley Cricket Club is delighted to announce the signing of Carlton Fourths premiership captain Sam Walker.
Sam played for four seasons for the Premier club, leading them to the Grand Final in three of them - with his final season in 2017/18 taking out the flag.
Sam played last season in Bendigo, which is where he grew up, but remained living in Melbourne and is keen to rejoin new coach Tony Gleeson at Moonee Valley.
At right: Our latest signing: (from left) Carlton premiership captain Sam Walker, with coach Tony Gleeson and president Charlie Walker.
Tony was at Carlton for 12 seasons, part of that time as Chairman of Selectors and most recently as team manager of the First Eleven. He was in that role when Carlton won the Firsts premiership in 2018/19.
Sam's Fourths flag in 2017/18 was a drought-breaker, as first two-day Premiership in 37 years.
A wicketkeeper/batsman, Sam will provide much-needed experience and advice alongside Moonee Valley's Firsts captain Jack Newman.
Tony said he was delighted to be working with Sam again, and said it would help enhance the professionalism around the Club.
Moonee Valley vice-president Mark Gauci said there was a buzz around the club with the signing, and with the likelihood of more overseas and quality local players coming on board as a result of Tony's appointment.
Anyone keen on playing for Moonee Valley in 2019/20 should ring Mark Gauci on 0457 778 335 or Charlie Walker on 0411 705 381.






June 30, 2019

charlie's firewood