Our new coach Tony Gleeson
by


Introducing our new Senior Coach: Tony Gleeson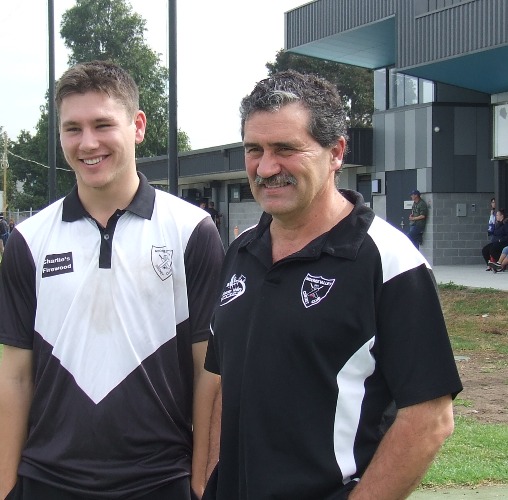 Moonee Valley Cricket Club is proud to announce the appointment of Tony Gleeson as our senior coach for the 2019/20 season.
Tony, who coached the Moonee Valley First Eleven to a premiership in the old Moreland Moonee Valley Cricket Association in 2000/01, comes back to us after more than a decade at Premier club Carlton, which culminated in a First Eleven premiership earlier in April.
At right: Moonee Valley's newly-appointed senior coach, Tony Gleeson (far right) with Firsts captain Jack Newman.
Club President Charlie Walker said he ws thrilled to welcome Tony "home" to Ormond Park.
Even during his time at Carlton Tony maintained close links with Moonee Valley, playing occasional games when available in our lower turf teams and being a regular in the MVCC teams at the Barooga Over 35s tournaments for the past six years - including winning the competition in January this year.
Tony initially took on a role as Seconds team manager at Carlton, was chairman of selectors for a number of years and for the past four seasons was team manager of the Firsts, including for this year's premiership.
Tony has already identified a tighter and more focused training program to ensure that players can get the best out of themselves on training days, and a greater emphasis on enjoying their cricket and the cameraderie of a team sport. This will be aided by moving back into our new $2.5 million Ormond Park clubrooms from the portables which housed the club for the 2018/19 season.
A 94-game player at Moonee Valley, including the 2000/01 First Eleven premiership, Tony is impressed with the young players from our juniors who are already making a name in senior ranks.
He is keen to review the playing list for our top grades in association with Vice President Mark Gauci, and is happy to consider applications to join the club.
Any player wishing to find out more should ring Charlie Walker on 0411 705 381.


May 9, 2019

charlie's firewood