Our Most Valuable Player and Fieldlow results
by Charlie Walker
Our Most Valuable Player and Fieldlow results

The Valley seniors held our MVP and fielding award vote counts at the Moonee Valley Bowls Club on March 10, and the call of the card brought plenty of excitement with each vote.
The count was hosted by Jonty Rhodes giving a brief account of every round of every game, while Peter Golding showed his skill with computers by adding the votes instantly to the big screen, along with the leader board after every round.
While it was the senior presentation night, some of our younger players who played a lot of senior cricket got into the action.
Junior Joshua Norsetter was prominent among them, winning the fielding awards for both the Thirds and Fourths, as well as the Fourths MVP.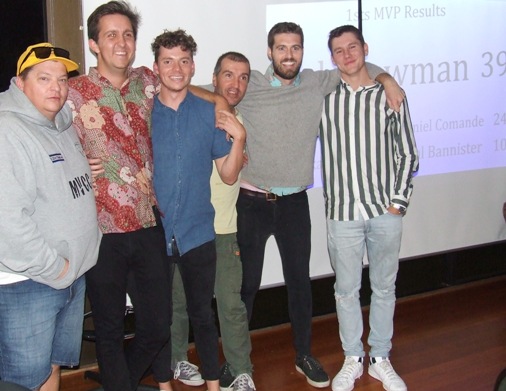 And one of our gun fielders, Shaun Rayment, won the Sixths Fieldlow award as well as finishing runner-up in the Thirds. Shaun played and polled votes in every grade from the Seconds to the Sixths. He was also selected as 12th man for the Firsts for one game until a late replacement came through - and surely would have earned fielding votes there as well.
At right: Some of our MVP and Fieldlow winners from the night: L-R Mark Gauci, Paddy Shelton, Daniel Comande, Jim Polonidis, Cassidy Box and Jack Newman.
Our winners and runners-up in each grade are:
Firsts Fieldlow: Daniel Comande 19 votes, Channa DeSilva 15 votes
Firsts MVP: Jack Newman 39 votes, Shiwantha Kumara 32
Seconds Fieldlow: Damien Clarke 12, Nate Wolland 9
Seconds MVP: Jim Polonidis 107 (different voting system), Stephen Ward 83
Thirds Fieldlow: Josh Norsetter 11, Shaun Rayment 7
Thirds MVP: Dean Lawson 21. Mark Gauci 21 (equal winners), Jesse Felle 20
Fourths Fieldlow: Josh Norsetter 14, Ben Skok 7, Akshay Kapadia 7
Fourths MVP: Joshua Norsetter 31, Stephen Esmore 29
Fifths Fieldlow: Paddy Shelton 11, Elliott Hughes 10
Fifths MVP: Cassidy Box 24, Jesse O'Grady 22
Sixths Fieldlow: Shaun Rayment 8, Nick Taylor 7
Sixths MVP: Sam Carbone 14, Danny Terzini 13
Thanks to Frosty Simmons and the bowls club for hosting the night, and to our sponsors Florentine's for the hearty meal.
***For the full votes in each grade, click HERE


March 11, 2019

charlie's firewood