Under 16s go down in a thriller
by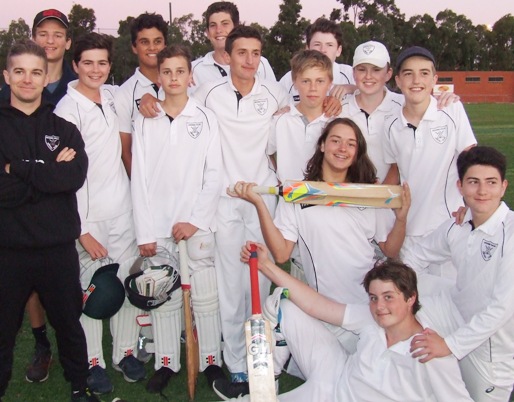 So close: Under 16s go down in a thriller

Moonee Valley's Under 16s fell an agonising 17 runs short in our Grand Final, in the unusual position of having plenty of wickets in hand but not enough overs to haul in the total.
At left: Our GF team. L-R: Back - coach Stephen Ward, Jack Drew, Tomas Morrissy, Krish Kanchan, Charlie Crook, Bevan Holder, Luca Nimorakiotakis, Jamie Akhurst, Noah Wallwork, Jack Cumming and Dylan Pleban. Front - Max Pickering, Caoimhin Corcoran and Felix Fischer.
The March 8 and 15 game - played on two consecutive Friday evenings at home at Ormond Park - was a see-sawing affair, with the Valleys having the ascendancy after Day 1 but the opposition getting off the hook and hitting out a bit to freely in the first half of Day 2.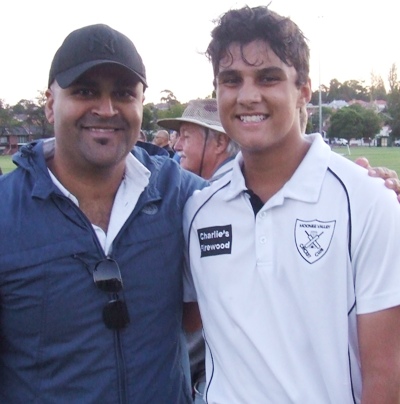 We had excellent efforts with the bat - Bevan Holder (21) and Noah Wallwork (32) on Day 1, and then Luca Nimorakiotakis (19), Felix Fischer (22) and Krish Kanchan (104no) taking up the fight, but sometimes things don't always go to plan. We only lost the four wickets.
It was an excellent season to finish on top with our first Under 16 team since 2014/15. Most of our players came up from the Under 14s last season, so they were in the first year in the higher age group. And two of our players - Tomas Morrissy and Krish Kanchan - were still Under 14-eligible so we've got a lot to look forward to next season.
Ten members of the team played senior cricket at Moonee Valley during the course of the season, so we've got a lot of talent on the horizon for years to come - and some of the young guys have already arrived as senior cricketers.
At right: Under 16 Grand Final centurion Krish Kanchan with his father Venks - and Krish was still eligible for Under 14s!
Krish brought up his maiden century in the last over, with a powerful flat-batted six, and had to retire when victory was still a faint hope.


March 15, 2019

charlie's firewood