Front Page - up to July 17, 2018
by
ANNOUNCING OUR NEW COACH - MARK GRENVILLE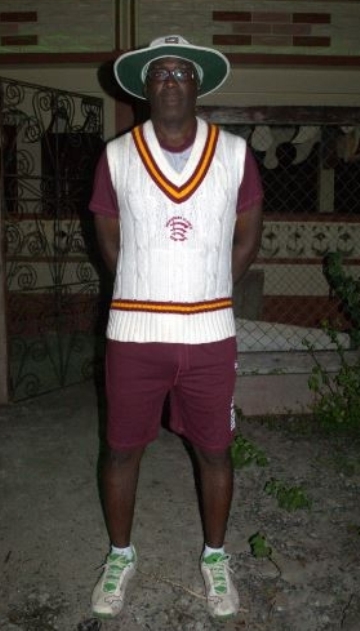 The Moonee Valley Cricket Club is pleased to announce Mark Grenville as our coach for the 2018/19 season.
M
ark has played at high levels in the West Indies, England and Australia, and has also played in the United States and Canada along his cricket journey, which has netted him more than 12,000 runs and 1300 wickets.
Growing up in the West Indies, he played in the Guyana Under 19s and also played 14 first class matches for Guyana in the Red Stripe Cup/Shell Shield - the equivalent of Australia's Sheffield Shield.
In announcing the appointment, Moonee Valley President Charlie Walker said that Mark will bring enthusiasm, skill and great coaching know-how to our club teams across all ages.
"Mark has Level 1 and Level 2 Australian coaching certificates, which will help him share his skill and experience across all our grades."
He is excited about being able to further improve the players in their late teens and early 20s in our higher grades, and also assist in developing our junior grade skills.
Mark is now an Australian citizen. He has been in Guyana for the past year doing voluntary youth coaching - a promise he made to return and help out when he was at the height of his own career - and returns to Australia in time for our pre-season training.
He believes players need to enjoy training, and promises a varied and interesting program to ensure we get the best out of our sessions.
He was Guyana Cricketer of the Year in 1986.
Playing for Guyana, he counted Test stars Roger Harper, Colin Croft, Carl Hooper and Roy Fredericks among his teammates.
His opponents were no less daunting, lining up against a plethora of stars including Sir Viv Richards, Phil Simmonds, Richie Richardson, Ian Bishop, Malcolm Marshall, Curtly Ambrose, Courtney Walsh, Winston Benjamin and Shivnarine Chanderpaul.
The standard didn;t get much easier when Mark played Minor Counties cricket in England in the 1980s and 1990s, with teammates and opponents including Australian captain Mark Taylor, Chris Matthews, Darren Berry, Chris Old and Madan Lal.
Mark moved to Australia in the mid 90s and coached and captain-coached teams in the southern suburbs of Melbourne, including Chelsea in the old VTCA.
His best bowling performance is 9/28 against Honley Cricket Club in England and his best batting is 175 against Guyana Police Force in Guyana.
Mark takes over the Moonee Valley role from our coach of the previous two seasons, Lou Raffaele, who led us to a Grand Final in 2017/18 and has now signed on to coach East Coburg.
Lou, as a past premiership coach and 100-game player at Moonee Valley, is part of the fabric of our club and is always welcome to visit. We thank him for his support and contribution.


---
THE BREWHOUSE LEGENDS GET TOGETHER

The Moonee Valley 2014/15 Sixths Premiership team got together to reminisce over a great season with a weekend away at Queenscliff from May 11 to 13.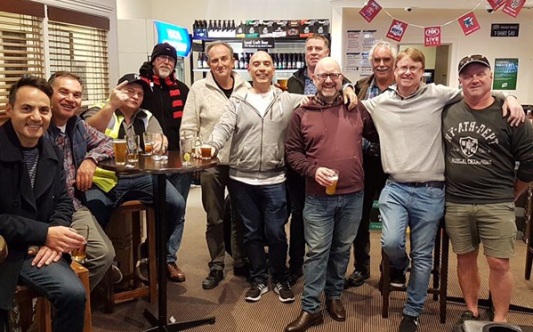 Thanks to skipper Brett Curran for his hospitality, and for guiding the crew to the Queenscliff Brewhouse, where they set up base for much of the weekend.
Only Peter O'Kane and Paul Edwards were missing from the premiership team, so the bond between the premiership players is evident.
At left: The Premiership team get-together: L-R Sam Carbone, Dean Jukic, Mark Gauci, Kevin Gardiner, Brett Curran, John Talone, Norm Wright, Paul Hobbs, President Charlie Walker, Dean Lawson and Sean O'Kane.

About half of the players have hung up the boots since the premiership, but a stirring presentation by Mark Gauci on the Friday night has got most of the boys raring to pull on the whites again for 2018/19 - although their wives don't know it yet!



Great night for the Valleys - all the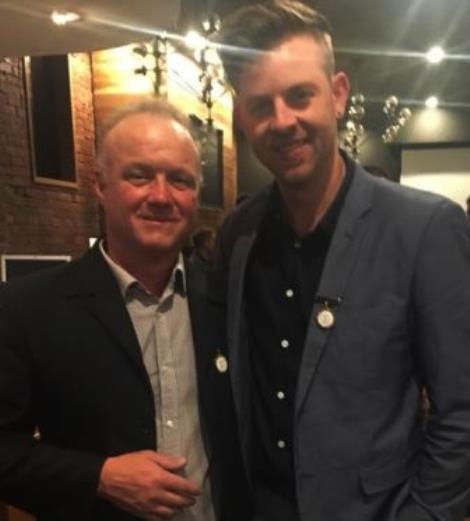 Presentation
news

A bumper crowd of almost 90 packed the Moonee Ponds Club for our 2017/18 Presentation Night, and it provided a great opportunity to honor our own.
With Club founder Ray Storey and wife Heather as our honored guests, Moonee Valley bestowed three Life Memberships and awarded the prestigious Lindsay Jones award to Michael Ozbun.
Sean O'Kane, not known as a regular at the microphone, delivered a magnificent and inspirational address on receiving his Life Membership plaque, epitomising what makes Moonee Valley such a great club.
We also awarded Life Memberships to two players who have come all the way through juniors - Matt Thomas and Jesse Felle - and it was also fitting that Chris Ayers was at the April 14 night. Chris was the parent who founded our juniors in 1996, and we haven't looked back.
At right: Two great new life members - who also played together in the 2009/10 Firsts Premiership - Sean O'Kane (left) and Matt Thomas.
In our Silver Jubilee year of the Lindsay Jones Best Clubman award, Michael Ozbun became just the third person to win it more than once.
And Presentation Night?
Of course, there were plenty of trophies for milestones, batting, bowling and fielding and other achievements.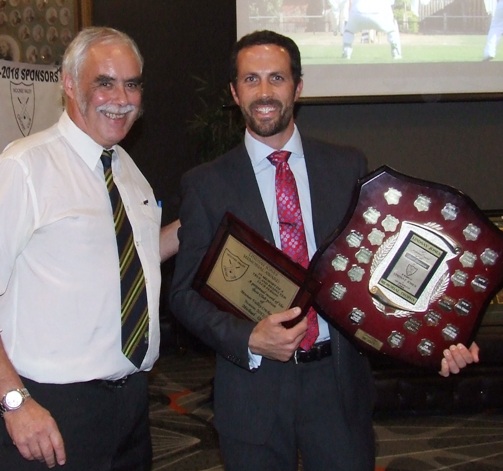 Grahame McCulloch, who first played in 2007/08, had a few seasons off then came back, took to the stage to give a whimsical review of his career, as he's retiring to Tasmania.
At left: Great clubman Michael Ozbun (right) receives his Lindsay Jones award from President Charlie Walker.
Grahame, who started as the dad of a junior, was best known for his fielding and for his role in the Sixths Premiership in 2013/14. We've already told him to bring his whites whenever he comes back across Bass Strait.
Chanaka Silva won the Club Champion award for the second consecutive year, while Jesse Felle won the Moonee Valley Award for the best player in all other grades.
Jesse just pipped young gun Joshua Norsetter, who as a 13yo carried all before him in the Fourths. Jesse and Josh both finished the season with 37 wickets, although Jesse played a lot more games as a result of the double-up rule.
The winner of the Bendigo Bank Most Improved Player, as decided by the coach, was Nigel Cowan Jnr. His win was announced and trophy presented by his father Nigel Snr - a valued member of our Committee.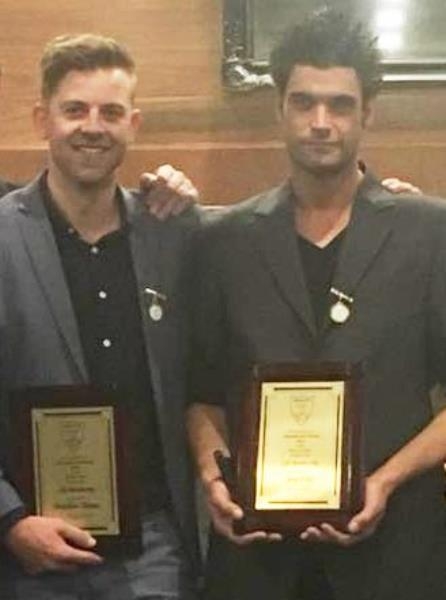 Channa DeSilva won the Wicketkeeper of the Year award - announced and presented by Brendan "Jonty" Rhodes.
It was fitting that juniors founder Chris Ayers was at the night with wife Vicki, as milestones trophies were presented to two players whose junior connections go back to that very first year.
Chris' son Daniel Ayers, who was in the Under 12s in our inaugural junior year, received his 50 senior game milestone, having come back this season after a hiatus of more than 10 years.
At right: Matt Thomas and Jesse Felle (far right) proudly wear their Life Member badges.
And Richard Cooney, whose son Michael was also an inaugural Under 12, received his 100-game milestone trophy.
Matt Thomas and Jesse Felle are the first two players from our junior program to achieve the honor of Life Membership.
Both have established excellent careers over a long period of 16 senior seasons, while our bylaws - which recognise longevity of service in determining Life Membership, take into account 50% of junior games in helping meet the criteria of 200 games and 16 seasons with our Club.
Dual Premiership captain Mark Gauci received a trophy for playing his 300th game - just the fifth Moonee Valley player to achieve that honor.
Matt Thomas and Dean Lawson received recognition for 4000 runs, and Jim Polonidis and Jesse Felle reached the 350-wicket milestone.


******

Watch this space - more photos and words

HERE




How to join the Valley - here's all the details

Moonee Valley Cricket Club is based at Ormond Park in Moonee Ponds.. We have seven senior sides - four on turf and three on hard wicket, and a range of Saturday and Sunday games to suit all options.
Anyone interested in joining our successful and progressive club for next season can phone Club President Charlie Walker on 0411 705 381.
Interested juniors can phone Junior Co-ordinator Peter Pickering on 0414 800 145 or email him at pjp@vicbar.com.au


---
Main Club contact details:
* Charlie Walker - President 0411 705 381; 0409 237 543; 9370 1802
* Peter Golding - Treasurer 0419 009 721
* Simon Thornton - Vice President 0417 570 779
* Peter Pickering - Junior Co-ordinator 0414 800 145 pjp@vicbar.com.au
* Channa DeSilva - Director of Junior Cricket 0402 833 592

Email: mooneev@club.cricketvictoria.com.au


For more contacts, see " Office bearers & Officials " under "Club News & Info" at the top of the page

Last updated: June 22, 2018.
For more of our history, including our Premierships, click HERE


| | |
| --- | --- |
| Our Sponsors | Number of visits to this site |
July 17, 2018

charlie's firewood