Front Page - up to October 4, 2017
by
---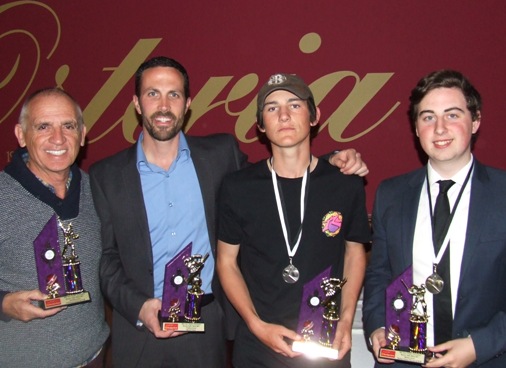 OUR WINTER

WARRIORS

Moonee Valley held its winter competition presentation night in style, with a classy sit-down meal at the L'Osteria restaurant in North Fitzroy.
The September 10 gathering was hosted by Moonee Valley winter player Kern Kapoor, whose family owns L'Osteria and has been an excellent host to our presentations for four seasons now.
At right: Proud winter comp trophy winners: L-R Neil King, Michael Ozbun, Jordon McDonald and Matthew Esmore.
Kern's not only a good host - he's a good cricketer as well. He has played 39 winter games for the Valley - second only to Michael Ozbun on 43 - and has more runs and more wickets than anyone else at our club.
Our next mission is to get him into the summer whites at Moonee Valley - but at this stage Kern's still working up the ranks in Premier cricket.
Around two dozen Valley players and family attended the presentation for our two teams - Michael Ozbun's Moonee Valley Black and Shane McDonald's Moonee Valley White.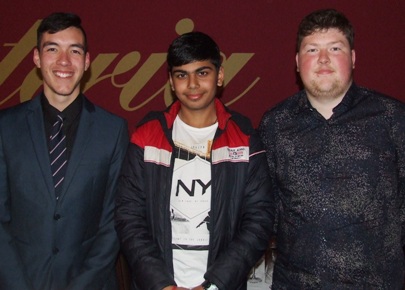 Matthew Esmore won the Black batting award with 345 runs pre-finals at a staggering 86.25 average, while Dwayne Barker won the White batting with 190 runs @ 23.75.
The ageless Neil King won the White bowling with eight wickets @ 11.38, and Chris Pollock took out the Black bowling with eight wickets @ 17.75.
The Black fielding award was jointly won by Anthony Cafari and Michael Ozbun, and Jordon McDonald won the White fielding trophy.
The Black MVP going to Matthew Esmore was no surprise, given he won the award for the whole grade, and Jordon McDonald was the stand-out player for the White team.
We also welcomed three players who played winter comp with the Valleys in 2017 and are joining Moonee Valley this season for summer cricket - Andreas Skiotis, Nigel Cowan and Akshat Sehgal.
At left: Our new summer recruits from our winter teams: L-R Nigel Cowan, Akshat Sehgal and Andreas Skiotis.


---
Meeting Fawad Ahmed at the winter comp awards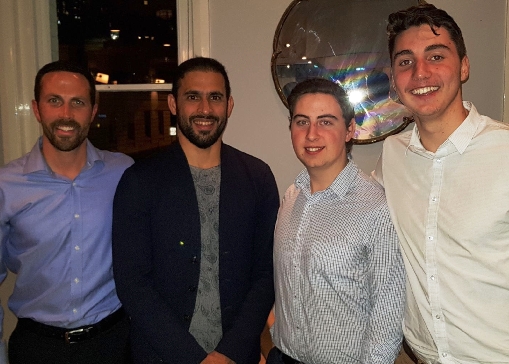 Moonee Valley cricketers were given the chance to renew acquaintances with an old friend of our Club when Test aspirant Fawad Ahmed was guest speaker at the Mid Year Cricket Association awards night on September 2.

Fawad played a couple of Twenty20 games for Moonee Valley in 2010, and was seen regularly around our Club when Ihtisham Uddin and Murtaza Khaliq were pullling on the Valley whites.

He's progressed significantly since then, with Sheffield Shield titles for Victoria under his belt, a number of seasons in the Big Bash league and Test tours of England and the West Indies.

Fawad gave an entertaining presentation at the Winter Comp awards night, touching on his determination to establish himself as a top-grade cricketer after fleeing hard-line persecution in Pakistan as a result of his sport.

At the end of the presentation, Moonee Valley's Michael Ozbun, Matthew Esmore and Stephen Esmore took the chance to catch up with Fawad for a chat and a photo opportunity.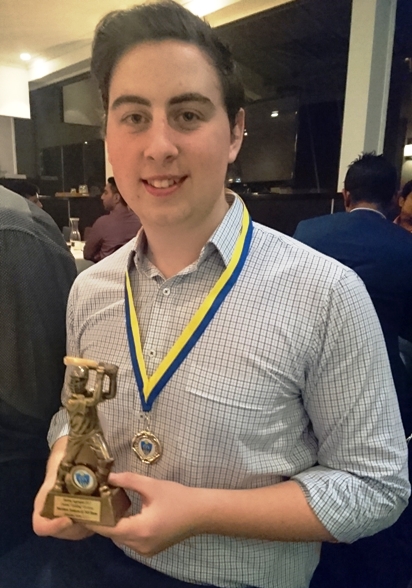 Above left: They've all proudly pulled on the whites for Moonee Valley - Test aspirant Fawad Ahmed (second from left) with L-R Michael Ozbun, Matthew Esmore and Stephen Esmore.

Matt Esmore took all before him in the winter comp, winning the Central Division Fielding Shield batting award with 345 runs at a staggering average of 86.25 - an average 30 runs better than the next-placed batsman.Matt was Mr Consistency throughout the season, scoring five centuries, a 40 and a 39 not out.

At left: A stellar season - Matt Esmore with his batting award for the MYCA Central Division and his MVP medallion - the John Hammer Award.

He also took more wickets than anyone else in the Moonee Valley Black team, with 11 at a healthy average in the pre-finals games of 22.91.

The Moonee Valley Black team under skipper Michael Ozbun finished on top of the ladder, but faltered in the semi final.

The Moonee Valley White team, captained by Shane McDonald, had a tougher season in the Inner North West Division, winning three games and finishing seventh on the ladder.

The 2017 season was Moonee Valley's fifth in the growing winter comp and second with two teams, and we're strongly committed to this standard of cricket in the off-season.

We play our home games out of Fairbairn Park in Ascot Vale, which is the home of winter cricket in the north-west.

---


Our Calendar of events: To see training sessions, events and other key activities, click this link --


---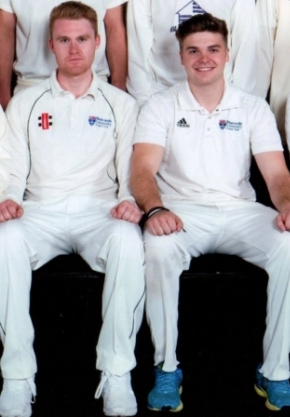 VALLEY OUTDOOR TRAINING -

WE'RE NOW OUT ON THE TRACK

Moonee Valley Cricket Club has been back at Ormond Park from Tuesday, September 12, as we plan for a big 2017/18 season. The seniors have already done a solid indoor pre-season block, while the juniors are also on the park from the week of September 10.
We've confirmed key appointments in Lou Raffaele as coach, Raj Aiyappan as First Eleven captain and the reappointment of Michael Ozbun as Second Eleven skipper.
Two Grand Final captains from last season - Ed Rayner in the Thirds and Shane McDonald in the Fourths have been reappointed in recognition of the way they led their teams into the finals. And we're set to confirm and announce captains of our other grades in the next couple of weeks.

At right: Our UK recruits - Sean Duckworth (left) and James Wolfenden played with the Newcastle University team.


We have welcomed the return of Club Champion Chanaka Silva from Sri Lanka for his third season at Moonee Valley, and have two young English guns - James Wolfenden and Sean Duckworth due to arrive later in September for their "year in the Colonies".
James and Sean have been in regular contact with Moonee Valley VP Simon Thornton, and are much reassured by his description of his conversion from a Yorkshireman to a Fair Dinkum Aussie over the past eight years.

We still have spots available in our six senior teams - and quite likely a seventh team this season as well. Anyone interested in joining our successful and progressive club can phone coach Lou Raffaele on 0450

181

948, Mark Gauci on

0457 778 335

or Club President Charlie Walker on 0411 705 381.

Interested juniors can phone Junior Co-ordinator Peter Pickering on 0414 800 145 or email him at

pjp@vicbar.com.au





---

---
Main Club contact details:

* Charlie Walker - President 0411 705 381; 0409 237 543; 9370 1802
* Peter Golding - Treasurer 0419 009 721
* Simon Thornton - Vice President 0417 570 779
* Peter Pickering - Junior Co-ordinator 0414 800 145 pjp@vicbar.com.au
* Channa DeSilva - Director of Junior Cricket 0402 833 592


Email: mooneev@club.cricketvictoria.com.au


For more contacts, see " Office bearers & Officials " under "Club News & Info" at the top of the page

Last updated: September 21, 2017.
For more of our history, including our Premierships, click HERE



October 4, 2017

charlie's firewood