Front Page - up to March 2, 2018
by
---
---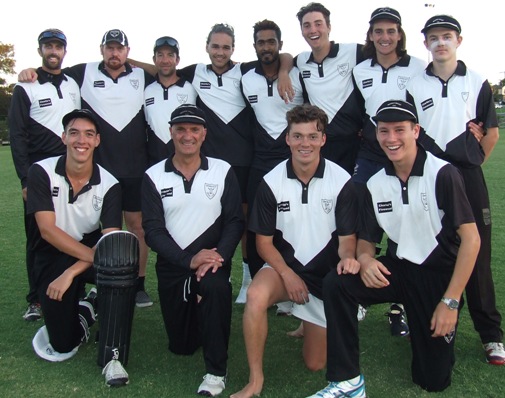 GUYS - WE'RE PROUD OF
YOU

Moonee Valley fell short in the Twenty20 Grand Final on February 6, but there was a lot to like about our tournament and the big match.
In a window to an exciting future as a Club, six of our players in the Grand Final were teenagers, and we were captained by Daniel Comande at the ripe old age of 22.
The seven bright young stars played the majority of our four games in the knock-out tournament, run by the North West Metropolitan Cricket Association.
At left: Our T20 Grand Final team. L-R: Back - Michael Ozbun, Nate Wolland, Ben Thomas, Luke Brock, Chanaka Silva, Stephen Esmore, Anthony Cafari and Charles Bibby. Front - Nigel Cowan, Lou Raffaele, Daniel Comande and Jack Newman.
We came up against a seasoned team in the Grand Final in Westmeadows, which plays VTCA in a division two grades higher than Moonee Valley, and was stacked with international and contract players. Moonee Valley 70 lost to Westmeadows 7/163.
Westmeadows won the toss and batted first at their home ground, with the game played on turf as both our clubs are turf at the top grades.
We both endorsed the switch to turf, even though the NWMCA is a hard-wicket competition.
Westmeadows got off to a flier, at 0/100 after the first 10 overs, so it was a top effort to peg them back and take regular wickets when we had been staring at a 200-plus chase.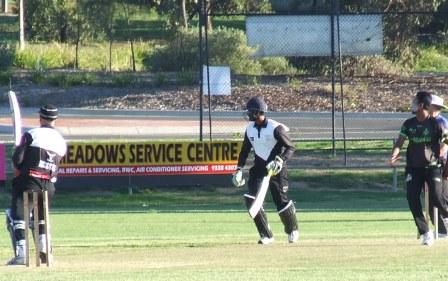 We never got any momentum going in the run chase, without support for opener Lou Raffaele's hard-hitting 34.
Moonee Valley has supported the NWMCA Twenty20 competition every season since its inception more than a decade ago.
In that time we have won two Premierships – 2008/09 and 2009/10 – and made the Grand Final in three other seasons.
At right: Lou Raffaele dispatches a ball to the boundary, watched by batting partner Chanaka Silva.

Our teens were Charles Bibby, Luke Brock, Anthony Cafari and Nigel Cowan, all 19; Jack Newman, who turned 19 the day before the Grand Final; and Stephen Esmore at 18.
Guys, we're proud of you.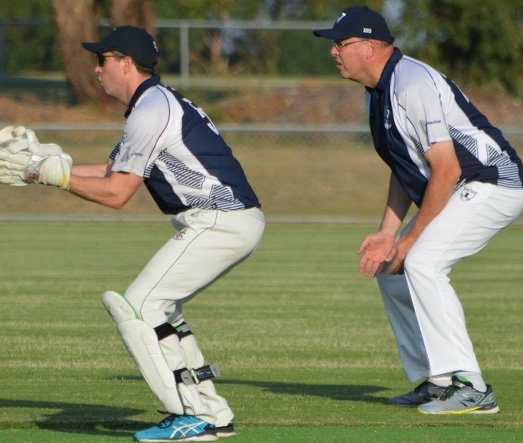 Bail to the Chief!

The Moonee Valley emblem was in the limelight when police took to the field in an annual cricket match to honor the memory of Luke Batty.
The death of young cricketer Luke, 11, in 2014 led Victoria Police to further strengthen their response to family violence.
The Victoria Police team for the January 25 Twenty20 match included Chief Commissioner of Police Graham Ashton and his chief of staff, Brett Curran – both prominent in Moonee Valley Cricket Club pants with our logo on the left hip.

At right: The Moonee Valley Cricket Club emblem is clearly visible on the left hip of Chief Commissioner of Police Graham Ashton, fielding at slip.

Brett is well known to Moonee Valley supporters as a 113-game player and regular captain of our Club, with honors including 77 wickets @ 13.56 and the 2014/15 Premiership.
The Chief Commissioner doesn't have such a close connection with Moonee Valley, but was happy to don the whites, have a bat and field at first slip.
Brett sent down some overs with his deceptive off-spinners, but pointed out that Tyabb – the club of Luke Batty – appeared to have stacked its team with some high-level ring-ins. And he's told us that a game or two from Chief Commissioner Ashton FOR Moonee Valley - not just in our whites - is not out of the question for next season.
The match was for the third annual Luke Batty Memorial Shield, raising awareness of family violence and to honor the memory of Luke.

*******For more photos from the match, click HERE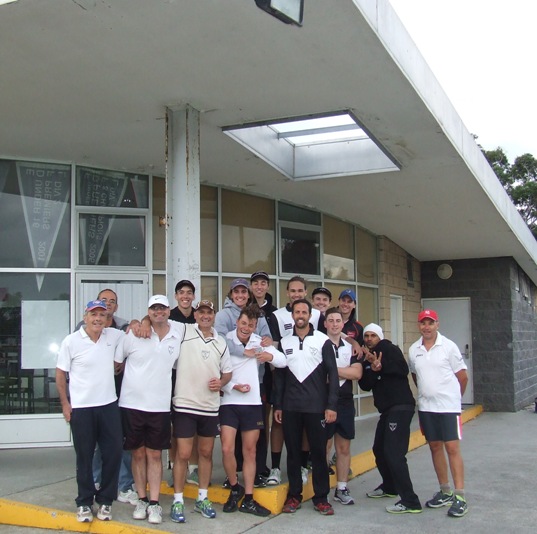 Our old pavilion - just about to shut up shop

As most of you know, the Moonee Valley Cricket and Football Clubs received a $2 million grant for the Council to build new change rooms and completely refurbish the Pavilion, creating a fantastic new playing, training and social environment for our players, members and families.

The new pavilion will have a significantly increased social space - almost three times the current space - a modern kitchen, bar, large dry and refrigerated food storage, an office, umpire change rooms and an upstairs cricket scoring box/timekeeper's box.

We'll also have four new separate change rooms, each with their own toilets and showers so comfortably accommodating all our teams.

Above right: Any day now: Our next training session could be our last in the old clubrooms. Enjoying the atmosphere here at the start of February are L-R Graeme Bloom, Pat Taylor, Michael Cumbo, Nigel Cowan, Lou Raffaele, Anthony Cafari, Daniel Comande, Stephen Esmore, Luke Brock, Michael Ozbun, Charles Bibby, Matt Esmore, Jack Newman, Raj Aiyappan and Dean Jukic.

This construction work will take place in 2018 and early 2019. The Council has provided temporary bar/canteen, change rooms, shower and toilet facilities, which arrived at Ormond Park on 1 February - as some of you may have seen.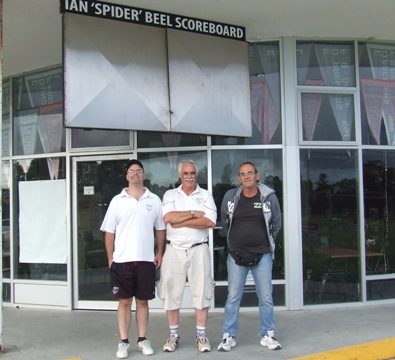 We're just waiting now for power, water and sewerage to be connected, and then we'll be moving out and over.

At right: The Ian "Spider" Beel scoreboard will be relocated when the pavilion goes down. Checking it out here are L-R Michael Cumbo, Charlie Walker and Pat Taylor.

The temporary change rooms will be smaller than we're used, to we expect the tail end of this season and a good part of 2018/19 will be disrupted and then we'll have our fancy new rooms!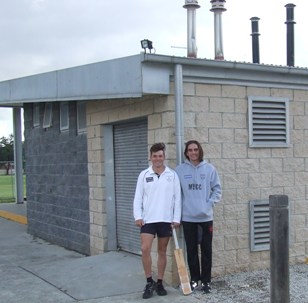 While there will be some inconvenience in relation to our temporary accommodation, we are currently exploring options for how we best use the space in a cost effective way while still enjoying our great club atmosphere.

At left: Lurking around at the back of the rooms: Daniel Comande (far left) and Anthony Cafari.

One of the options we have put to the Council is a structure over the portables to provide better cover for patrons and supporters, and we are working through this.

Stay tuned for further updates as the construction progresses.






---
How to join the Valley - here's all the details

Moonee Valley Cricket Club trains at Ormond Park on Tuesday and Thursday evenings until the end of the 2017/18 season. We have seven senior sides - four on turf and three on hard wicket, and a range of Saturday and Sunday games to suit all options.
Anyone interested in joining our successful and progressive club for next season can phone coach Lou Raffaele on 0450 181 948, or Club President Charlie Walker on 0411 705 381.
Interested juniors can phone Junior Co-ordinator Peter Pickering on 0414 800 145 or email him at pjp@vicbar.com.au

---
Main Club contact details:
* Charlie Walker - President 0411 705 381; 0409 237 543; 9370 1802
* Peter Golding - Treasurer 0419 009 721
* Simon Thornton - Vice President 0417 570 779
* Peter Pickering - Junior Co-ordinator 0414 800 145 pjp@vicbar.com.au
* Channa DeSilva - Director of Junior Cricket 0402 833 592

Email: mooneev@club.cricketvictoria.com.au


For more contacts, see " Office bearers & Officials " under "Club News & Info" at the top of the page

Last updated: February 28, 2018.
For more of our history, including our Premierships, click HERE


| | |
| --- | --- |
| Our Sponsors | Number of visits to this site |
March 2, 2018

charlie's firewood