Front Page - up to December 18, 2017
by
---

Our Valley Xmas Party 2017 -

Our last Hurrah before the old pavilion's gone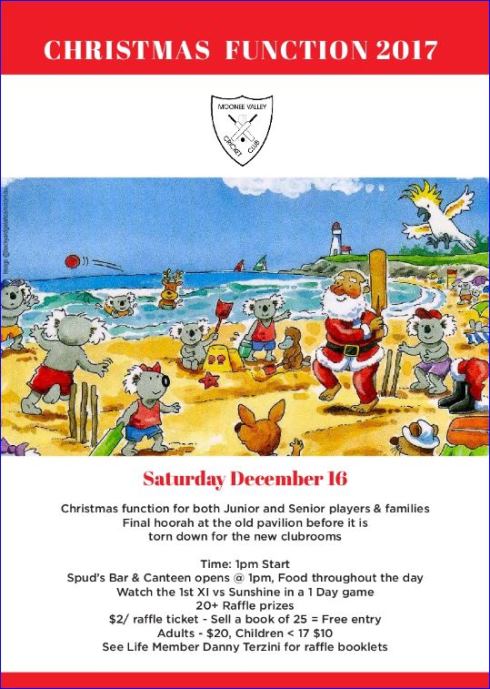 Danny Terzini will be distributing raffle tickets to ALL players over the next week or two. Please get the tickets back in - plenty of prizes - cash and gifts - to be won in the raffle. Have fun during the day and on the night.


---
Tons of fun for James and Charles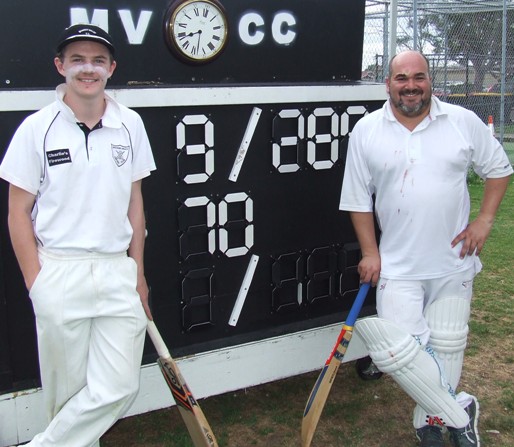 Moonee Valley players James Harris and Charles Bibby brought up their maiden Valley tons on the same day and on adjoining grounds on November 25.
Charles, who has come through Moonee Valley's junior ranks and is playing Firsts and Seconds cricket, anchored the innings for the Second Eleven on the Ormond Park turf pitch, while James was having a hit in the Fifths on the hard wicket.
Celebrating their maiden Moonee Valley centuries - Charles Bibby (left) and James Harris.
Both were interrupted innings - Charles finished Day 1 on 78 not out and had to sweat through a week before coming back in and posting 118.
James had a different interruption. He opened the batting, and got to 141 before top-edging a hook shot into his forehead and needing to come off for treatment.
A couple of wickets fell and he came back in as part of the last pair at the crease - and smacked a four and a six to pass the 150 mark and carry his bat for 153 not out.
It was a strange innings for the Fifths - nine players made single-figure scores, and only James and debutant batsman Damien Clarke (80) made substantial contributions on the way to our Day 1 score of 289 - all out on the second ball of the last over of the day.
James has hit a couple of tons back home in Tasmania, but this was his first three-figure haul in the Valley colors.
Charles' dig got Moonee Valley to 243, backed by a 48 from emerging batsman Matthew Esmore. It proved a bridge too far for Sunshine. We cleaned them up for 172 with Matthew Esmore and Luke Brock each claiming four wickets.
Charles, Matthew and Luke are all young players who came through the Moonee Valley junior ranks. They've all played First Eleven cricket, so our Club has got a healthy future with the young talent pushing up hard.


---
Our Liam sails away to a distant Shore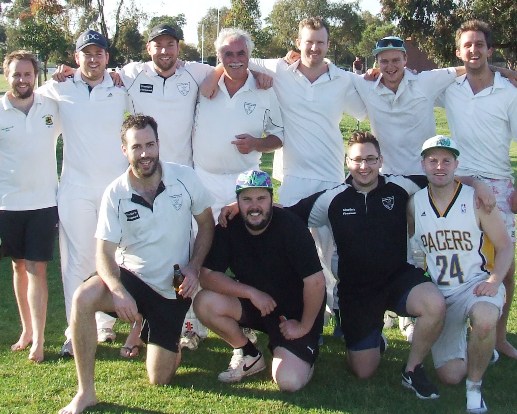 Liam Shaw's headed to distant shores. He's pictured here with his teammates in his match before his farwell function. L-R: Back - E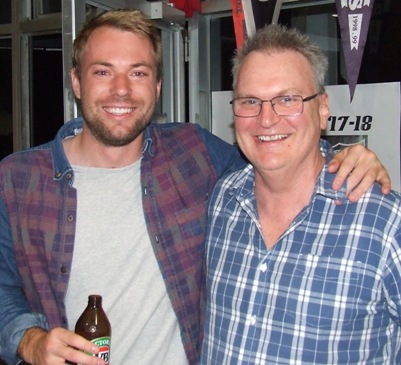 lliott Hughes, Sam Gunther, Liam Shaw, Charlie Walker, Justin Trowell, Dylan Jamieson and skipper Paddy Shelton. Front - Liam Farrell, Shane Chalmers, Nick Brelis and Dominic Rettino.

Record-breaking Moonee Valley batsman Liam Shaw won't be adding to his runs tally in the Valley Wisden - at least for now.
Liam is the only player in our history to hit three consecutive centuries, and his 791 runs in 2016/17 had him third on our all-time season's run tally.
At right: Liam Shaw with one of his skippers from previous seasons - Doug Cumming.
His work has taken him to Western Australia, and we held a farewell function for him at the Ormond Park clubrooms on November 11 - even though he pulled on the whites for his farewell appearance a week later.
At least Liam's got a Moonee Valley connection in Perth - he's already signed on with Bedford Morley Cricket Club, joining past Sixths teammate Chris Rebeiro, who returned to his home state the previous season.
Liam has been a great clubmate and teammate in his four seasons at Moonee Valley, scoring 1023 runs at an average of 53.84 and proving an agile and reliable wicketkeeper.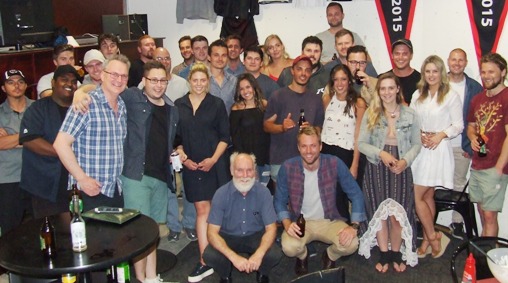 Liam Shaw - at front with Allan Cumming - has friends and teammates with his as we celebrate his career at Moonee Valley.
***More pictures from the night - click HERE

---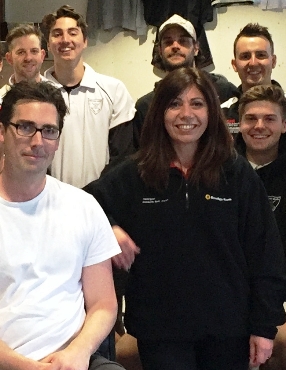 BENDIGO'S OUR BANKING

PARTNER

The manager of the Flemington Community Bank branch of Bendigo Bank has given Moonee Valley members a first-hand insight into the benefits of our banking partnership.
Visiting our clubrooms on November 2, Nuran Umit spelled out the benefits of Bendigo's unique Community Bank model.
Simply, the more business our cricket members put the way of Flemington Community Bank in terms of loans, accounts and deposits, the more profit is generated and the more money is in the pool for distribution to local clubs and worthy projects.
It's as easy as transferring over existing loans and accounts, or opening new ones - and each time we move some business across, there's a direct bonus benefit to our Club.
At right: Flemington Community Bank manager Nuran Umit shared the story of community banking with Valley members L-R Ben Skok (front), Matt Thomas, Stephen Esmore, Jesse Felle, Paul Bannister and James Wolfenden.
We're now into the second year of our relationship with Flemington Community Bank, and it's one that the Moonee Valley Cricket Club values.
Members wanting to know more about Flemington Community Bank's relationship banking can phone Nuran on 9372 2798 or 0413 464 944, or email her on nuran.umit@bendigoadelaide.com.au
The Flemington Community Bank branch is at 325-327 Racecourse Rd, Flemington.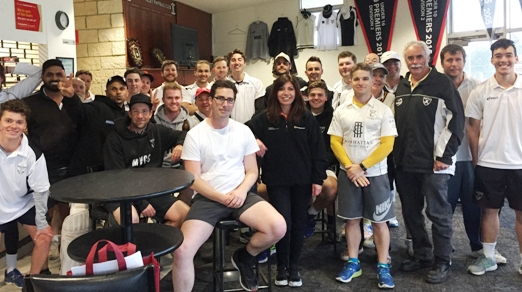 Above: Flemington Community Bank manager Nuran Umit met a big contingent of Valley players at our Ormond Park clubrooms to
explain the community bank success story.

---


Our Calendar of events: To see training sessions, events and other key activities, click this link --


---
VALLEY OUTDOOR TRAINING - DETAILS


Moonee Valley Cricket Club trains at Ormond Park on Tuesday and Thursday evenings. We have seven senior sides - four on turf and three on hard wicket, and a range of Saturday and Sunday games to suit all options.

We still have spots available in our senior teams. Anyone interested in joining our successful and progressive club can phone coach Lou Raffaele on 0450

181

948, or Club President Charlie Walker on 0411 705 381.

Interested juniors can phone Junior Co-ordinator Peter Pickering on 0414 800 145 or email him at

pjp@vicbar.com.au





---
Main Club contact details:

* Charlie Walker - President 0411 705 381; 0409 237 543; 9370 1802
* Peter Golding - Treasurer 0419 009 721
* Simon Thornton - Vice President 0417 570 779
* Peter Pickering - Junior Co-ordinator 0414 800 145 pjp@vicbar.com.au
* Channa DeSilva - Director of Junior Cricket 0402 833 592


Email: mooneev@club.cricketvictoria.com.au


For more contacts, see " Office bearers & Officials " under "Club News & Info" at the top of the page

Last updated: December 2, 2017.
For more of our history, including our Premierships, click HERE



December 18, 2017

charlie's firewood